President's Message
~ continued ~
You'll find volunteers throughout the Park actively engaged in public outreach and education, support for scientific research, assistance with natural resources management, and advocacy. You can find volunteers on the trails day and evening, at the observation tower, in the forest and meadows, monitoring the flora and fauna, teaching the next generation of environmental stewards, at the Norma Hoffman Visitor Center, by the side of the road picking up trash, in the wetland (that's right: wearing our waders), meeting with local and state officials, at neighborhood and community meetings, delivering public testimony, and more. On a personal note, this volunteer work is enormously gratifying and always interesting. Every day at Huntley, there is something different to observe. Being at HMP on the trails or in the Visitor Center, gives Park volunteers the opportunity to experience natural resource phenomenon firsthand. For me, in particular, the natural world gives me a feeling of awe and wonder when I take the time to observe what's happening in it.
More volunteers are needed at HMP; may I invite you to join us? There are various volunteer opportunities open at the Park. You can find one that fits your interests. Are you a person who likes to interact with the public? Assisting with educating and helping inform visitors at the Norma Hoffman Visitor Center front desk might be for you. Do you like the rewards of contributing citizen science data that helps inform management decisions at the Park? Do you like being out on the trails?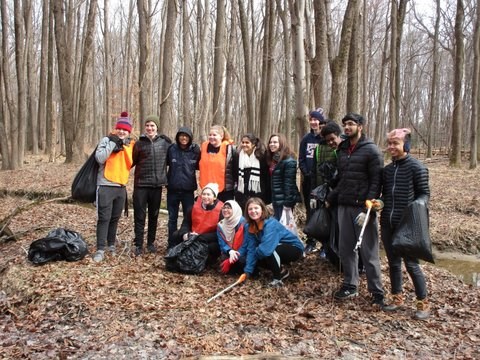 From time to time to time opportunities to assist with trail or Park habitat monitoring of flora and fauna become available. Do you enjoy history and sharing knowledge about past human inhabitants of the land? You might enjoy being a docent at Historic Huntley (HH). There is diversity in the volunteer activities that you can participate in. Find out what help is currently needed at HMP, HH, and other Fairfax County Park Authority (FCPA) sites and how to apply for open positions. Visit the FCPA volunteer website: https://www.fairfaxcounty.gov/parks/volunteer. New opportunities become available throughout the year, so if you don't find something that interests you, check back..
HMP general and activity specific training is provided for all volunteers. I've learned so much about our natural world by honing my observation skills at HMP. Every volunteer project that I've engaged in has been fun; some more challenging than others, but all have been interesting and rewarding. It is fun to volunteer alone or on a team. It is such a joy for me, and I know it could be for you too. Volunteering is also a way for me to "escape" into the HMP wilderness for a few hours here and there; this helps keep me better balanced in this stressful, gadget-filled world.
The Friends of Huntley Meadows Park (FOHMP) group extends its deepest thanks to all HMP and HH volunteers. I am especially grateful for the volunteer Board of Directors for FOHMP. The FOHMP Board is an enthusiastic, high-energy group of committed HMP volunteers.
It is a joy and inspiration to volunteer to protect HMP so that future generations will have this Park and its wonderful natural resources available to enjoy sustainably.
See you soon, perhaps while volunteering!
Cathy Ledec, President
FOHMP