Facilities temporarily closed. Park is open. Trails remain open. Boardwalk open.
Please respect social distancing guidlines while in the park.
Please check here for more information.
25th Annual Birdathon
In the interest of making lemonade out of our current lemony situation, we are doing something different for the Friends of Huntley Meadows Park Annual Bird-A-Thon this year. Instead of a select group scouring the Park together on one morning, this year EVERYONE can participate, anywhere, anytime for a week in May.
---
Coronavirus Resources
National
Local
---
President's Message
CHANGE IS ALL AROUND US
By Cathy Ledec
Dear Friends,
Changing seasons. The change of seasons in winter is always beautiful to watch as it unfolds. I look forward to all the changing seasons that we are lucky to enjoy here. With all the unusually warm days we are having, a warming climate trend seems to be impacting us this winter. Despite this, have you noticed the beauty of na-ture in the winter? The rusty brown leaves that are hanging on to the oaks; yellow stalks of grasses bending in the breezes; the seed heads topped with an American Goldfinch enjoying a snack; brown, black and gold leaf litter blowing in the wind, or from a leaf pile, out pops a squirrel; so much to observe outdoors during the lovely days of winter. Most of our native plants are at rest, but with so many warm days this winter some are showing their early spring glory, including the Skunk Cabbage.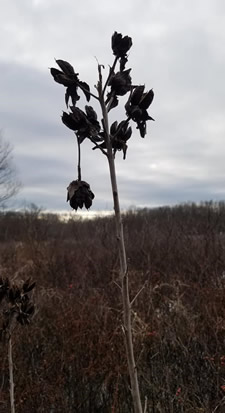 The reported declines can seem overwhelming, but actions made by each of us may contribute to slowing, and possibly reversing, these declines locally. What can we as individuals do to make a difference? A good first step is learning about our local environment and the wildlife that lives here with us. I was told when I was growing up that knowledge is a powerful tool that should always guide one's actions. I'm always looking to learn more about everything that impacts our natural world. Then I work to use that knowledge as a basis for informing recommendations on land use practices, environmental protections, and support for the conservation and protection of our natural resources here in Fairfax County. Reading these scientific research reports can be a downer at first, but the knowledge that I take away informs my actions.
---
Save the Date!
The Friends of Huntley Meadows Park (FOHMP) Annual Meeting will be held on Saturday, June 20 from 3:00 p.m. to 5:00 p.m. in Huntley's Norma Hoffman Visitor Center (3701 Lockheed Blvd, Alexandria, VA 22306).
Anyone interested is encouraged to join us to learn what FOHMP has accomplished in FY19-20. Members are eligible to vote on the next year's Board members.
---
Monday Morning Bird Walk
By Harry Glasgow
The Friends of Huntley Meadows Park hosts a weekly bird walk on Monday mornings, which all are invited to join. The Monday Morning Bird Walk has been a weekly event at Huntley Meadows Park since 1985. It takes place every week, rain or shine (except during electrical storms, strong winds, or icy trails), at 7AM (8AM November-March), is free of charge, requires no reservation, and is open to birders of all interest and identi-fication levels. Birders meet in the parking lot at 3701 Lockheed Blvd, Alexandria, VA. Questions should be directed to Park staff during normal business hours at (703) 768-2525.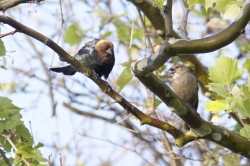 A previous edition of this newsletter contained a bit about brood parasitism, another fact of nature that some find appalling. Brood parasites lay their eggs in the nests of other birds, and do not provide any parental care for their own offspring. Care that the "hosts" provide to the young parasites is care denied to their own young. This can have a detrimental effect on the reproductive success of the hosts and may affect their population numbers as a consequence.
If we can look at these occurrences without judging them by human social conventions, and instead see them as an integral part of nature, our joy of being outside will grow. However you perceive the creation of our world, what has developed is a natural outcome of that creation. The Hawk taking the Chickadee is an expression of the natural world. The Hawk has to eat, too. And its diet includes Chickadees. The nest parasitism discussed in our last newsletter is also a natural behavior for some species. The nest parasites we encounter in North America are usually Brown-headed Cowbirds. Parasitism by Cowbirds is increasing and has been reported as high as 70% (i.e., 70% of found parasitized nests had Cowbird eggs in them). The main reason for this increase is probably habitat fragmentation.
---
Where Does My Contribution Go?
The Friends of Huntley Meadows Park supports a wide range of programs throughout the Park. Your membership dues and donations are critical to the success of our organization.
Some items we fund(ed):
Educate the public and the Fairfax County Park Authority on the impacts of Dominion Virginia Power's proposed changes to the easement at the south boundary of the Park. (See page 2 for details.)
Creation of Huntley Meadows Patches, now on sale in the Norma Hoffman Visitor Center (VC) gift shop.
Scholarships to support three interns for the summer of 2016. These interns will complete much needed programing projects. But most importantly they will assist Staff during day camps that educate and enter-tain our next generation of naturalist and environmental stewards.
Environmental protection apprentice who will study with Park experts to learn best practices for wetland, forest, and meadow management.
Quarterly newsletter to keep our 450+ members up-to-date on what is happening at the Park. Newsletter expenses have fallen with our "GO GREEN" initiative to provide more newsletters by email.
Printing of various Park brochures and the frog stickers that adorn so many young visitors.
Specialized training for Staff. This is usually several thousand dollars annually.
School trips for schools throughout Fairfax County and neighboring counties. Kids are our very best ambassadors - we hear from many visitors that their kids visited on a school field trip and wanted to come back to show their families what a special place Huntley Meadows Park is.
A donation to the Raptor Conservancy, one of our biggest entertainers on Wetlands Awareness Day. The contribution is used to feed and care for beautiful birds of prey that can no longer live in the wild.
Generate merchandise to sell in the Visitor Center gift shop, e.g., hats, shirts, magnets, and lapel pins.
Purchase of tools, and supplies for trail restoration, planting, invasive removal, and field studies.
Production of the annual photography show, which celebrates local photographers and their work snapped at the Park.
An ad for FOHMP in the playbill for West Potomac High School's production of Starlight Express. West Potomac students help us each spring with watershed cleanups.
Who We Are
The Friends of Huntley Meadows Park was founded in 1985 and is a nonprofit organization of individuals dedicated to the protection of Fairfax County's premier wetland wildlife sanctuary.
FOHMP was organized exclusively for charitable, scientific, and educational purposes and operates under Section 501(c)(3) of the Internal Revenue Code.
The Monday morning birdwalk has been suspended until the park authority resumes its public programs and events
The Monday Birdwalk takes place every week, rain or shine, at 8 AM, is free of charge, requires no reservation, and is open to all. Birders meet in the parking lot at the Park's entrance at 3701 Lockheed Blvd, Alexandria, VA. Questions should be directed to Park staff during normal business hours at (703) 768-2525.
Friends of Historic Huntley
Friends of Historic Huntley is a non-profit citizen group committed to working with the Fairfax County Park Authority to assure the preservation, restoration and appropriate use of Historic Huntley and to enhance the public's knowledge of the site and the broader historic development of the neighborhood.