Friends of Huntley Meadows Park
2016 Photo Contest
Give us your best shot!
Huntley Meadows Park
Deer Management Update
By David Lawlor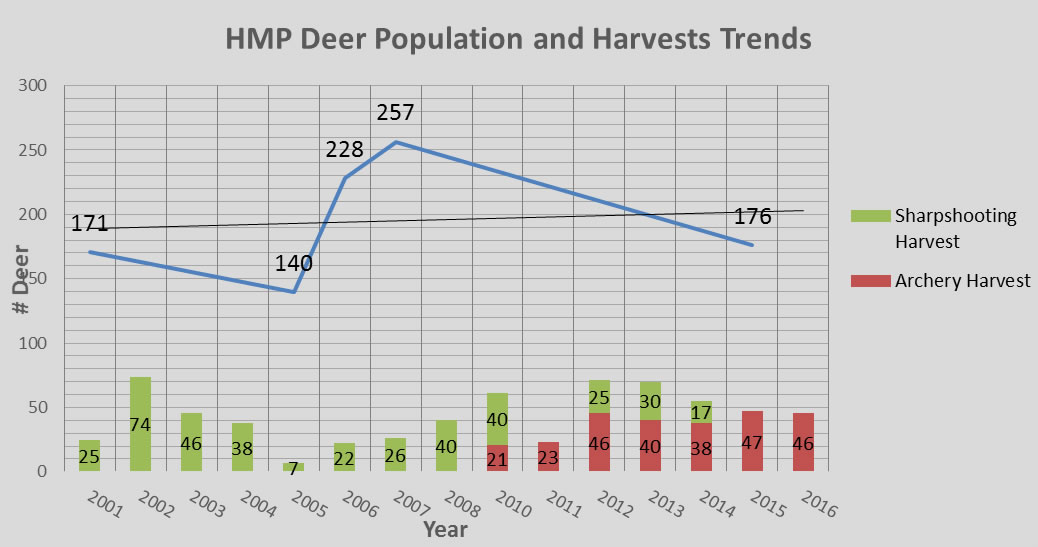 ---
In August of 2015 a deer population survey was conducted in Huntley Meadows Park (HMP) using infrared (IR) cameras and the Jacobson et al protocol. Currently the IR camera survey is accepted by leading re-searchers to be the best method of assessing deer populations. Although some methods use slightly different calculations, they are all very similar. The last deer population survey done at HMP was in 2007, so the Park was definitely due! The IR, or game cameras, are a limiting factor and the Fairfax County Park Authority (FCPA) purchased 15 cameras in 2015 to support... more
---
Where Does My Contribution Go?
The Friends of Huntley Meadows Park supports a wide range of programs throughout the Park. Your mem-bership dues and donations are critical to the success of our organization.

Some items we fund(ed):
Educate the public and the Fairfax County Park Authority on the impacts of Dominion Virginia Power's proposed changes to the easement at the south boundary of the Park. (See page 2 for details.)
Creation of Huntley Meadows Patches, now on sale in the Norma Hoffman Visitor Center (VC) gift shop.
Scholarships to support three interns for the summer of 2016. These interns will complete much needed programing projects. But most importantly they will assist Staff during day camps that educate and enter-tain our next generation of naturalist and environmental stewards.
Environmental protection apprentice who will study with Park experts to learn best practices for wet-land, forest, and meadow management.
Quarterly newsletter to keep our 450+ members up-to-date on what is happening at the Park. Newslet-ter expenses have fallen with our "GO GREEN" initiative to provide more newsletters by email.
Printing of various Park brochures and the frog stickers that adorn so many young visitors.
Specialized training for Staff. This is usually several thousand dollars annually.
School trips for schools throughout Fairfax County and neighboring counties. Kids are our very best am-bassadors - we hear from many visitors that their kids visited on a school field trip and wanted to come back to show their families what a special place Huntley Meadows Park is.
A donation to the Raptor Conservancy, one of our biggest entertainers on Wetlands Awareness Day. The contribution is used to feed and care for beautiful birds of prey that can no longer live in the wild.
Generate merchandise to sell in the Visitor Center gift shop, e.g., hats, shirts, magnets, and lapel pins.
Purchase of tools, and supplies for trail restoration, planting, invasive removal, and field studies.
Production of the annual photography show, which celebrates local photographers and their work snapped at the Park.
An ad for FOHMP in the playbill for West Potomac High School's production of Starlight Express. West Potomac students help us each spring with watershed cleanups.
---
Face of Facebook
Ever wonder who the face is behind the Friends of Huntley Meadows Park (FOHMP) Facebook page? It is Allyson Lohr,
our volunteer Facebook administrator, who has been doing a fantastic job of maintaining our site for several years She started visiting Huntley Meadows Park with her family as a child and then was a summer intern at the Park several summers ago. Allyson is currently working on her Masters Degree in Biology at George Mason University with the goal of teaching high school Biology.
Her enthusiasm shows in her great postings, so please visit the site at: Facebook. FOHMP thanked Allyson recently with a framed certificate of appreciation and a gift card.
Who We Are
The Friends of Huntley Meadows Park was founded in 1985 and is a nonprofit organization of individuals dedicated to the protection of Fairfax County's premier wetland wildlife sanctuary.
FOHMP was organized exclusively for charitable, scientific, and educational purposes and operates under Section 501(c)(3) of the Internal Revenue Code.
Monday Morning Birdwalk
The Monday Birdwalk takes place every week, rain or shine, at 7 AM, is free of charge, requires no reservation, and is open to all. Birders meet in the parking lot at the Park's entrance at 3701 Lockheed Blvd, Alexandria, VA. Questions should be directed to Park staff during normal business hours at (703) 768-2525.
Friends of Historic Huntley
Friends of Historic Huntley is a non-profit citizen group committed to working with the Fairfax County Park Authority to assure the preservation, restoration and appropriate use of Historic Huntley and to enhance the public's knowledge of the site and the broader historic development of the neighborhood.
---
Fall Art Show
Margaret Wohler
Through November
Visitor Center Auditorium
~ click image to enlarge ~